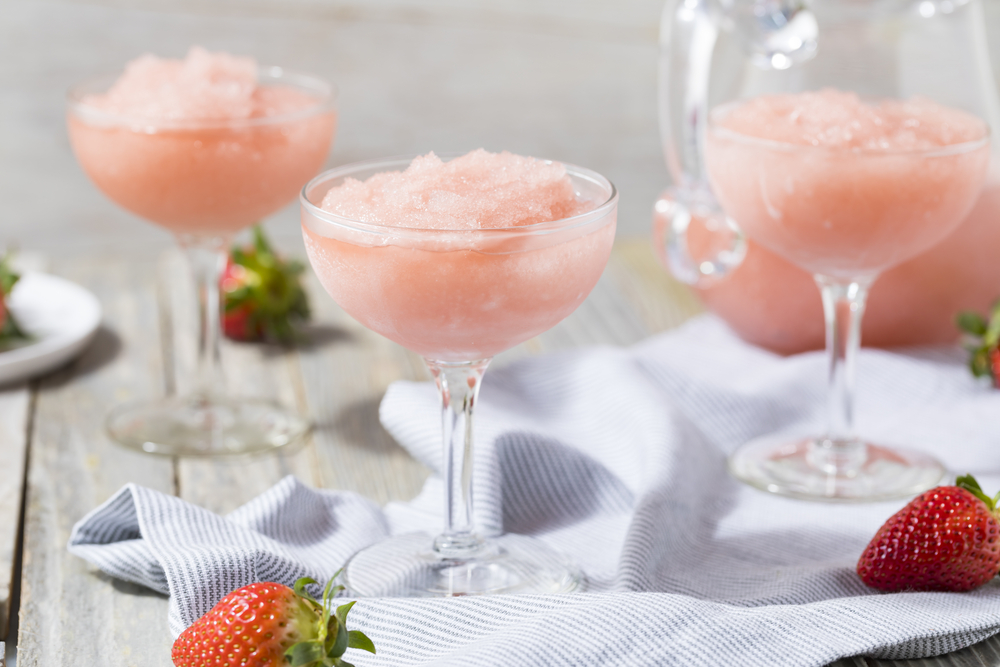 Frosé for Days
Humid weather in the NYC calls for frozen rosé, more popularly known as frosé, which quickly became a total hit last summer. The dry summer wine from France is especially drinkable in warmer months, so when the frozen version of this hit the markets, most of us became instant fans.
Check out these local spots for the best places to sip on frosé, the refreshing pink drink that tastes like a bouquet of fruit and flowers.
This posh restaurant and nightclub serves one of the most beloved frosés in Manhattan, called the Rio de Frosé. It's not your typical frosé, but a mix of Brazilian rum cachaça, Swedish vodka, Côtes de Provence rosé (the French region that produces the very best), Italian aperitif Cocchi Americano, and lemon juice. This strong mix makes for a strong, delicious drink. Vandal also serves spikes popsicles -- let us recommend the blackberry and mojito fusion. 199 Bowery, Lower East Side
Sundeck at Royalton Park Avenue
Located at the top of Royalton Park Avenue's tri-level roof, our sundeck is the perfect place to soak up the evening sun and sip on a frosé. Sundeck is open from 4-close weekdays and noon to close weekends.
This Michelin-star Korean Steakhouse in the Flatiron district serves high-end Korean barbecue meets American-steakhouse fare and has pleased just about everyone since its inception. Cote's frosés are simply adorable, served with a flamingo straw -- but don't let that fool you. These frozen drinks are topped with pineapple liqueur and citrus. Enjoy your seemingly innocent drink that packs a strong punch. Reservations required. 16 W 22nd St., Flatiron District
Hip and cozy, Soto 13 is an Italian-inspired restaurant that serves watermelon frosé daily - while supplies last. The watermelon frosé has gained quite a following. We recommend weekend brunch at Soto 13, which runs 11-4 pm, or check out their happy hour weekdays from 5-7. 140 W 13th St., Midtown West
Three types of frosé offers frosé aficionados something to talk about, so do visit Bar Primi. The Italian pasta shop frequently features a seasonal frosé in addition to their three mainstays; Sicilian Rosé, Rosato Vermouth, and Strawberry Frosé. The Bar Primi is rather popular, so if visiting for dinner or brunch, make sure to make a reservation ahead of time. 325 Bowery, East Village
--
Planning a trip to NYC? Check out rates at our boutique hotel in Manhattan.
---
---