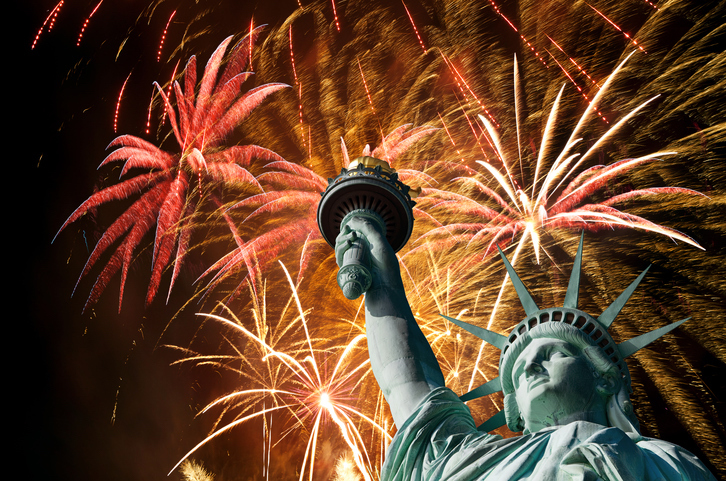 Fourth of July in the Big Apple
The Fourth of July is just around the corner! Take part in an unforgettable Independence Day with these five festivities in the Big Apple.


The Royalton Park Avenue Rooftop
You don't need to go far to get a breathtaking view of the Macy's fireworks. Take a dip in our pool, dine at Ristorante Asellina, and then head up to our Sundeck for a drink before the big show. There will also be a live DJ and party promoter, so bring your dancin' shoes!


Fourth of July Fireworks Cruise
All aboard! A special Independence Day cruise on the East River will take place from 6pm–10pm for a panoramic view of the city, fresh BBQ, house cocktails, and dancing beneath the fireworks.


Revolutionary Walking Tour
Pay homage to New York City's rich history on the day freedom was found with a walking tour to some of the city's most significant landmarks from the Revolutionary War. Led by local experts in an intimate group of 10–12 guests, this two-and-a-half-hour trek includes a visit to the graves of Alexander Hamilton, General Richard Hamilton, sites connected to George Washington and Thomas Jefferson, and to the Fraunces Tavern where a British cannonball pierced its roof in 1775.


Freedom Fest
Take the whole family to Freedom Fest on Pier 15 for a BBQ buffet, dancing, and riverfront view of the fireworks. And don't forget your red-white-and-blue ensemble — tourists and locals alike are known to don Lady Liberty crowns and DIY Independence Day outfits.


A Quiet Afternoon at the Museum
Did you know most of the city's famous museums are still open on the fourth? (Of course they are — we're the city that never sleeps, after all!) Take advantage of this little-known fact to mosey through a gallery while everyone else is prepping or pregaming for the fireworks. The American Museum of Natural History, Metropolitan Museum of Art, MoMA, and The Whitney will all be open.
---
---