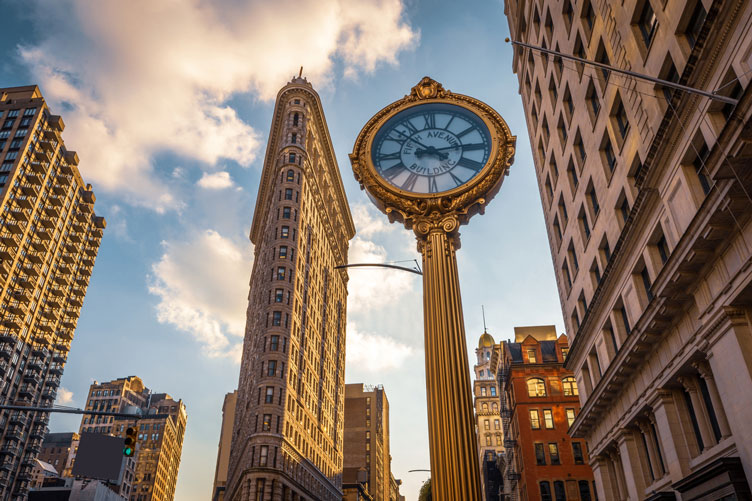 Best Photo Opportunities Around Nomad
Running from Sixth to Lexington Avenues and from 23rd to 30th Streets, the Nomad district is as central as central gets. Although its surrounded by popular neighborhoods like Chelsea, Flatiron or Gramercy, our neighborhood is New York's hidden gem. Explore it and take memorable shots of its best sights!
Architecture
Flatiron Building is possibly one of the most photographed buildings in the world. Located at 175 Fifth Avenue, it's a short walk from the hotel. Try catching it at different times of day; natural light enhances its architectural details.
As one of the Seven Wonders of the Modern World, the Empire State Building is one of the true icons of the Manhattan skyline. Built in 1931, the Empire State Building remains one of the greatest feats of American ingenuity and a must-take shot of anyone visiting New York. Luckily, guests at Royalton Park Avenue will get a unique vantage point of the ESB from our rooftop pool (pictured above)!
Street Photography
Just blocks away from the hotel and located between Fifth and Madison Avenue, and between 23rd & 26th Street, is Madison Square Park. Seven acres of public green space where you can see stunning art, gorgeous gardens and attend exciting events and programs. The locals think of it as a town square where the neighborhood's life converges.
A favorite spot for photographers is the original Shake Shack. Order a burger and shake, sit back and look for good shots of people from all walks of life.
Abstract and Colorful Backgrounds
We have a fun suggestion for anyone looking for unique shapes and backgrounds. The National Museum of Mathematics is an immersive and interactive museum that excels at bringing maths to life. If you don't want to attempt to relearn your formulas and equations, you can walk around the museum in search of funky angles and abstract shots to spice up your Instagram feed.
Local Eats and Nightlife
One of Nomad's main draws is the vibrant culinary and night scene. For a small neighborhood, Nomad has popular restaurants and bars every few feet. These are perfect opportunities to work on your food photography, closeups of a masterful cocktail or panoramic views of iconic locales.
Take Eataly, for example. Eataly is an Italian Marketplace that features several sit down restaurants, food and beverage counters, a bakery, retail items and a cooking school. Another option is to stroll around the neighborhood, especially between the 27th and 24th streets, and pick a spot that catches your eye. You'll be surprised at all the opportunities!
The simplest option to snap enviable photos is located right at Royalton Park Avenue. Our Rooftop restaurant and bar, (pictured above) serves a diverse food menu, cocktails and live music several times a week.

As you can see, the Royalton Park Avenue is truly located in the center of the city's most influential happenings. Explore our many NYC hotel deals and book your stylish room at New York's favorite boutique hotel today.
---
---