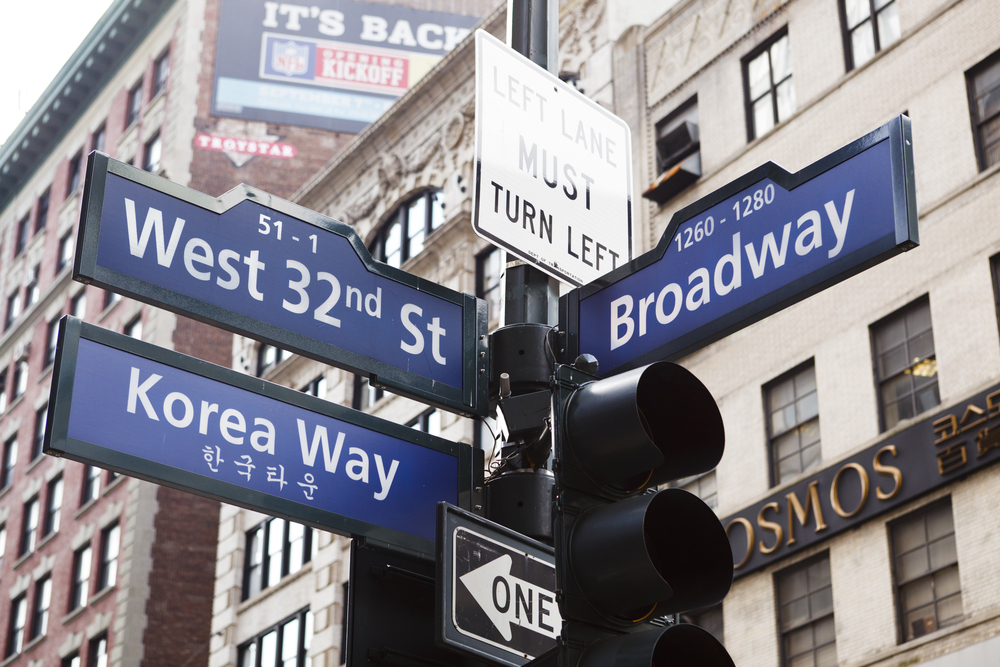 Explore Koreatown in Manhattan
The vibrant, 24/7 neighborhood of Koreatown, or K-Town, is just steps away from Royalton Park Avenue in Manhattan. It has all the soul of Seoul, with Korean businesses assembled in a vertical fashion that offer goods, cuisine, entertainment, and services from the East.
While in Manhattan, you can make a day out of K-Town, or at least a satisfying meal. Here are the top things to do in Koreatown, located just a block from Madison Square Garden.
Get There
The most lively park of K-Town is on 32nd Street between 5th and 6th avenues. Known as "Korea Way," this is where Korean businesses are most densely-packed. From Royalton Park Ave. Hotel, K-Town is less than a half mile on foot. Leaving the hotel, simply take a left headed on Park Avenue headed north, until you reach 32nd Street. Take a left; once you reach 5th Avenue you'll notice street signage is in English and Korean -- and you've arrived.
Eat Korean BBQ
Korean BBQ is an experience unto itself, standardized with charcoal grills set in the center of the dining table and guests taking turns flipping an array of meat cuts. A classic place for Korean BBQ in K-Town is Jongro BBQ at 22 W. 32nd St., which serves up a mean beef platter. Expect long waits on the weekend. Let's Meat at 307 5th Ave. is new to the scene, but offers perfectly-marbled meat cuts and great quality. For a more upscale experience, Dongs Bogam BBQ & Wine Bar at 17 E. 32nd St. is spacious and offers a sommelier-select wine list and great lunch specials. For dinner, try the marinated short ribs.
If you're not in the mood for a barbeque, Korean comfort food from the tried-and-true BCD Tofu House at 5 W. 32nd St. won't let you down. Seafood soups and tofu hot pots abound in this Korean diner-like mainstay. Most K-Town restaurants are open 24 hours on the weekend and keep late hours on the weekdays.
Spas & Cosmetics
Treat yourself to spa time or a massage while in Koreatown! Aura Wellness Spa at 49 W. 33rd St. is equipped with impressive therapeutic grottos constructed with minerals that eliminate skin toxins. The traditional spa offers water massage therapy, teeth whitening, and dozens of other services. The best part: it's open 7 am to 2 am daily. Juvenex Spa on 25 W. 32nd Street is another good option, upping the ante with 24-hour service, 7 days a week. Juvenex offers salt glows indigenous to Korea, and provides services using Asian, European, and American spa remedies.
While you're in the neighborhood, make a special K-beauty visit to The Face Shop at 25 W. 32nd Street. This Korean cosmetic and beauty shop offers products made with natural ingredients, from sleeping masks to makeup and cleansing products.
Noraebang! Karaoke in Koreatown
A night of karaoke is a fun and memorable way to cap-off the night in K-Town. There's no shortage of karaoke bars. For small to large groups, may we recommend Gagopa Karaoke at 28 W. 32nd Street. Gagopa is open until 4 am and guests can reserve a room ahead of time at an inexpensive, hourly rate. It's BYOB (no liquor) and food, and the venue provides utensils, ice and cups. Karaoke City & Sports Bar is another good option if you're looking for both bar and karaoke atmosphere. Private rooms are available for rental. Karaoke City is located at 22 W. 32nd St., on the 7th Floor.
휴가 잘 보내!
--
Planning a trip to NYC? Check out rates at our boutique hotel in Manhattan.
---
---