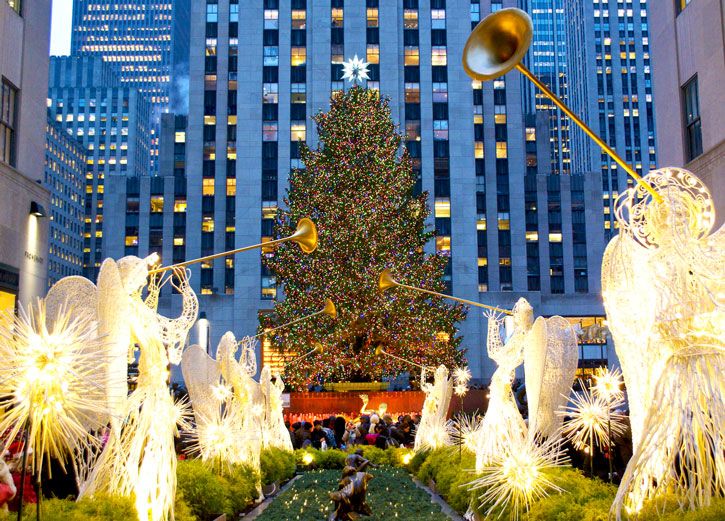 Tree Lighting Ceremonies in New York
Holiday decorations are going up all around the city. The season officially starts as soon as Christmas trees are lit. Do you want to be there when the switch is first flipped? Then, check out these popular tree lighting ceremonies in New York!
Rockefeller Center
Location: 30 Rockefeller Plaza, between West 48th and 51st Streets and Fifth and Sixth Avenues
Date: Wednesday, December 4, 2019 at 8pm
The Rockefeller Center Christmas Tree Lighting is New York's quintessential holiday tradition. As the grandest tree in the city, this is one ceremony that you should attend at least once in your life. We don't need to remind you to arrive early—viewing spots are on a first come, first serve basis.
Bryant Park's Winter Village
Location: Between 40th and 42nd Streets & Fifth and Sixth Avenues.
Date: Thursday, December 5, 2019 at 6pm
Bryant Park's Tree Lighting is just another reason to visit this enchanting Winter Village. The ceremony comes with an ice-skating performance, music, fireworks and an early appearance of Santa Claus.
Central Park Holiday Lighting
Location: Charles A. Dana Discovery Center, inside the Park at 110th Street between Fifth and Lenox Avenues
Date: Thursday, December 5, 2019 at 5:30pm
Central Park's Annual Holiday Lighting takes festive decorations to the next level. Head to Harlem Meer for an evening of hot cocoa, cookies, holiday cheer and a unique tree lighting ceremony.
Madison Square Park
Location: Between Fifth & Madison Avenues, 23rd & 26th Streets
Date: Thursday, December 5, 2019 at 3:30pm
The Madison Square Park Holiday Tree Lighting takes place every year just steps from Royalton Park Avenue! This annual festival brings together our community for an afternoon of free seasonal activities. The tree lighting countdown will start at :4:45pm, so make sure you're there on time.
Washington Square Park
Location: Washington Square N, New York, NY 10012
Date: Wednesday, December 4, 2019 at 6pm
The Washington Square Park Tree Lighting is another event you can't miss. After all, this is the second longest running tree lighting ceremony in the city. The tree will be located right under the park's iconic arch.
As the excitement of the holiday season approaches, so do our winter deals. Explore our special offers and book your room in Royalton Park Avenue, Midtown's most chic boutique hotel.
---
---