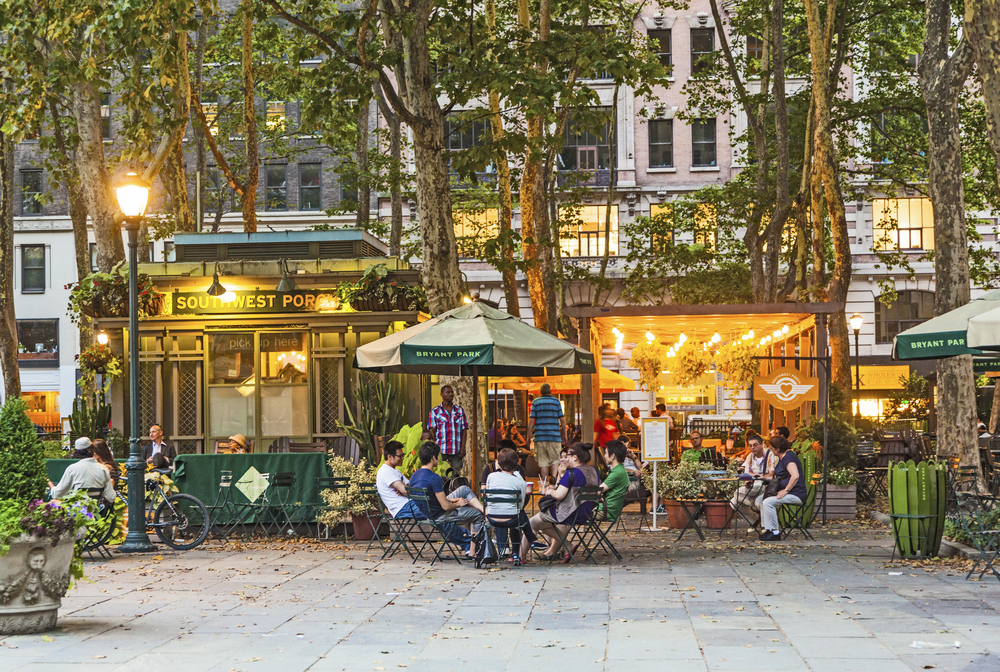 5 Best Restaurants with Outdoor Dining in Manhattan
New Yorkers can't wait to get outside after the winter season. Manhattan has a great selection of outdoor dining, with patio, rooftop, or streetside seating. Want to soak up the sun? Here's Royal Park Avenue's top 5 restaurants with outdoor dining in Manhattan.
Located behind the New York Public Library, Bryant Park Grill is covered in ivy and offers patio and rooftop seating with views of Bryant Park. You can't go wrong at this place -- even indoors, natural lighting, plants and a tree stretching through the roof makes you feel like you're outside. Soak up the sun while eating in the patio, which includes swings and lounge furniture. We recommend you go during the week, as rooftop seating is sometimes closed on the weekend due to private events. Open 11 am to 11 pm weekdays. Enjoy lunch and an afternoon stroll in Bryant Park. 25 W. 40th St.
Order a tasty burger and a beer and grab a seat at Royale's welcoming garden patio. The menu is playful, Pulp Fiction-inspired, and the American comfort food is surprisingly tasty -- and well priced. Order a Shimmy Shimmy Coco Punch drink or craft brew and enjoy a cheeseburger loaded with bacon on the breezy patio. There's something special about this place. 157 Ave. C
If you're staying with us at Royalton Park Avenue Hotel, you don't have to go far to enjoy incredible views of Manhattan, especially the Empire State Building. Our rooftop offers a full cocktail and drink menu, as well as small plates, shareable platters and a small selection of desserts. Enjoy a bottle of wine and a charcuterie platter with friends while taking in the surrounding skyscrapers. We open daily at 11 am; weekdays we close at 1 am and weekends at 3 am. Don't forget to check our entertainment calendar, with Jazz Mondays, DJ sets and more. Royalton Park Avenue Hotel, 420 Park Ave. S.
If you want to escape the city bustle, Pier i Café is your best choice. Located on the Hudson River in Riverside Park South, guests can watch the boats go by and take in glorious sunsets. This laid-back grill and café offers American favorites with fresh ingredients, and guests order and pick up food at their leisure. Great for families. Pier i Café is open seasonally, from May 1 through mid-October from 11:30 am 'til midnight. Have a seat outside and enjoy a different view of the city. Pier I at W. 70th St.
There's several Dos Caminos around Manhattan, but their SoHo location has a great patio. Try upscale, Mexican-inspired food and an extensive tequila and mezcal menu. Try the prickly pear cactus margarita for starters; order off the "bocaditos" menu and enjoy a wide array of Mexican street food. 475 W. Broadway
--
Planning a trip to NYC? Check out rates at our boutique hotel in Manhattan.
---
---