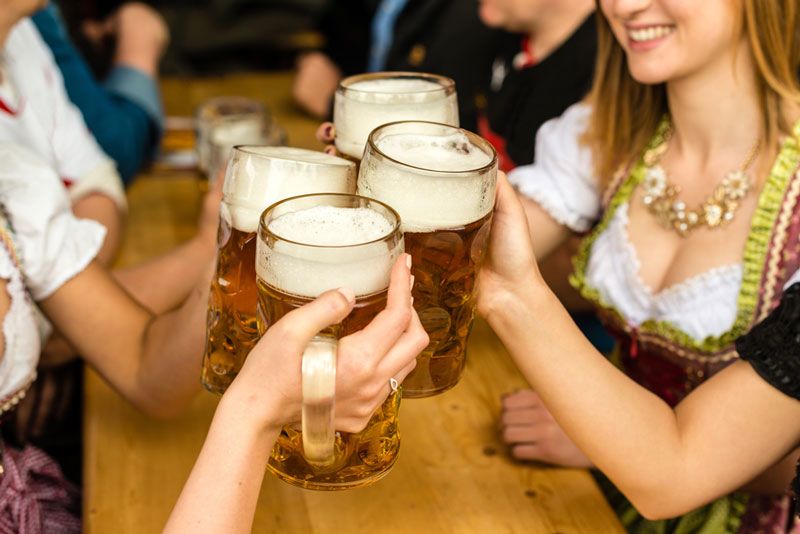 New York's Best September Drinking Festivals
Traveling to New York this September and lucky to be over the age of 21? Whether you want to play the part of Bavarian or sommelier, these three drinking festivals will leave you smacking your lips and returning for more booze—but not too much!
German-American Oktoberfest and Parade
Location: Rumsey Field in Central Park, enter East 72nd Street
Date: September 21, 2019 from 1:30pm to 7:15pm
Tickets: $35 – $135
The quintessential Oktoberfest in New York takes place in Central Park. Organized by the German American Steuben Parade of New York, this is the perfect post-parade event. As a family-friendly event, there will be pints of beer, or the liter-version called "stein," for the adults, German music, entertainment and traditional dishes. Bratwurst, anyone?
If you want to go to the annual Steuben Parade, head to Fifth Avenue and E 78th Street before noon to see the massive floats, marchers in traditional costumes and performers from Germany, Austria and Switzerland.
OktoberFest NYC
Location: Watermark Bar, 78 South St Pier 15, New York, NY 10038
Date: Weekends starting September 13–October 20, 2019.
Tickets: Free RSVP available
Couldn't get tickets for the Central Park Oktoberfest? Do you want a wider choice of dates? In that case, OktoberFest NYC is right for you. For six weekends, Watermark Bar will bring Munich to Manhattan. Pair your Bavarian outfit with a stein of top German beer and a giant pretzel. Work on your arm strength for the stein holding contest. All of this, with the East River and Brooklyn skyline in the background.
New York Wine Fest
Location: The Tunnel, 269 11th Avenue, New York, NY 10011
Date: September 21, 2019. Divided into afternoon and evening sessions.
Tickets: $15–$70
Beer is not your thing? This month isn't just about Oktoberfest. The New York Wine Fest is a tour of vineyards from all around the world. Upon arrival, you'll receive a souvenir 5-oz. tasting glass. Then, it's up to you where you choose roam! Taste rosé, red and white. Have a few bites from the food vendors. And relax to some great tunes played by live bands. Designated driver tickets available. Stay safe!
The clock is ticking. Tickets for these festivals, as well as hotel rooms are selling out. Consult our latest hotel deals and book your stylish room in Royalton Park Avenue, a chic boutique hotel in the heart of Nomad.
---
---