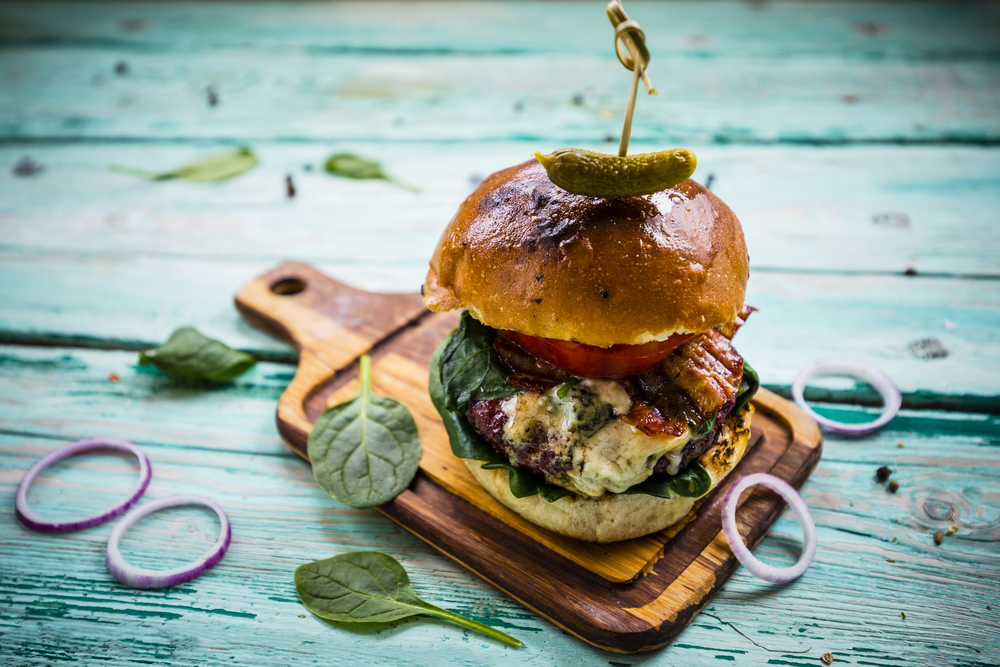 The Most Exquisite Burgers in Manhattan
Rather than list the best burgers in Manhattan, we decided to bring it up a notch in true Royalton fashion. Looking for something more than just a burger? Ready to ditch the standard American cheese for something a little different? Check out these Manhattan burgers, some French gourmet, some topped with mac and cheese -- all splendidly thoughtful in their own way.
Paul Bunyan Burger at Bare Burger
514 3rd Ave., multiple locations
Even the ketchup at Bare Burger is organic, so it's no surprise that this Paul Bunyan burger is like a walk in the woods, and the plains -- bison meat, bleu cheese, black forest bacon, pear jam and carmelized onions make for a well-rounded, deep-flavored burger experience.
Black Label Burger at Minetta Tavern
113 MacDougal St., Greenwich Village
At $26 as of 2018, this is the most expensive burger in Manhattan, but the 8 oz. patty made of dry aged beef is so tasty they don't even add cheese to this burger -- just caramelized onions. Eat like a celebrity at this vintage diner and eat a burger with a glass of red wine, just because.
Beastmode Burger Deluxe at The Cinnamon Snail
7th Ave. & W. 33rd St., multiple locations
Don't worry vegetarians, we didn't forget about you. The Beastmode Burger Deluxe is a rather savage mix of ingredients that somehow all jives wonderfully. The burger starts with an ancho chili seitan burger with barbecue sauce, topped with jalapeño mac and cheese, smoked chili coconut bacon (what?) and, if that wasn't enough, chipotle mayonnaise. This psychedelic burger and many beautiful desserts are available at The Cinnamon Snail.
Raoul's Soho
180 Prince St.
Opened by French brothers in 1975, the burger at Raoul's is no secret since it was declared the best burger in the US. The Au Poivre Burger is decidedly un-American, constructed with a brisket patty, pepper, Saint-André cheese, watercress, and cornichons (sour French pickle), on achallah bun. It's fairly priced, but there's a catch -- only 12 burgers are available nightly, and only at the bar. Luckily, upwards of 24 are available for brunch, so you have better chances of trying the best burger in America during the daytime shift.
--
Planning a trip to NYC? Check out rates at our boutique hotel in Manhattan.
---
---