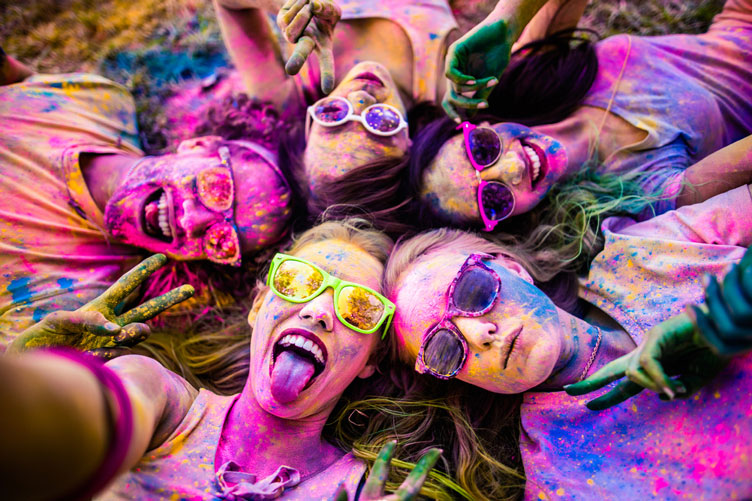 Festival of Colors Parties in New York
The countdown to spring has finally begun. We're less than two weeks away from a new season of colors, scents and warmth. This time of year also brings an energetic and positive celebration: Holi, also known as the festival of colors.
Traditionally, Holi is celebrated in India and Nepal to mark the beginning of spring and bring happiness and positivity. The celebrations have expanded to the rest of the world in the form of vibrant festivals. These events involve music, dancing and dusts of colors. Without further ado, these are the best events in New York.
Holi in The City Party
Date: March 16, 23 and 30, 2019 from 1pm to 8pm
Location: Stage 48, 605 W 48th Street, New York, NY 10036
Tickets: Starting at $35. VIP admission available. Prices may increase closer to the event. You must be at least 21 and show valid ID.
The biggest and most popular Holi Hai party in New York takes place at Stage 48, the epic club and rooftop lounge. Bring your friends, wear white and party by day and night. Food, multiple fully stocked cash bars and entertainment will be available. Please remember that certified organic colors will be provided, so no need to bring your own.
Date: April 6, 2019 from 12pm to 3:30pm
Location: Hornblower Cruises & Events Pier 40, 353 West Street, New York, NY 10014
Tickets: From $58 to $100. You must be at least 21 and show valid ID.
What about joining a Holi celebration on board a cruise? Rang Barse Holi Cruise has been been around for over 10 years for many reasons. This unique cruise by Hornblower Cruises includes safe colored powder, food, cash bar and live music by DJ Ashu Rai & Dholi Mohit. Cruise around New York Harbor, see the Statue of Liberty and throw as much colored powder as you can!
If you're ready for more spring events, follow the Royalton Park Avenue blog and be the first the know of the latest happenings in New York. Don't forget to consult our spring and summer sale to get the best hotel deal in New York.
---
---