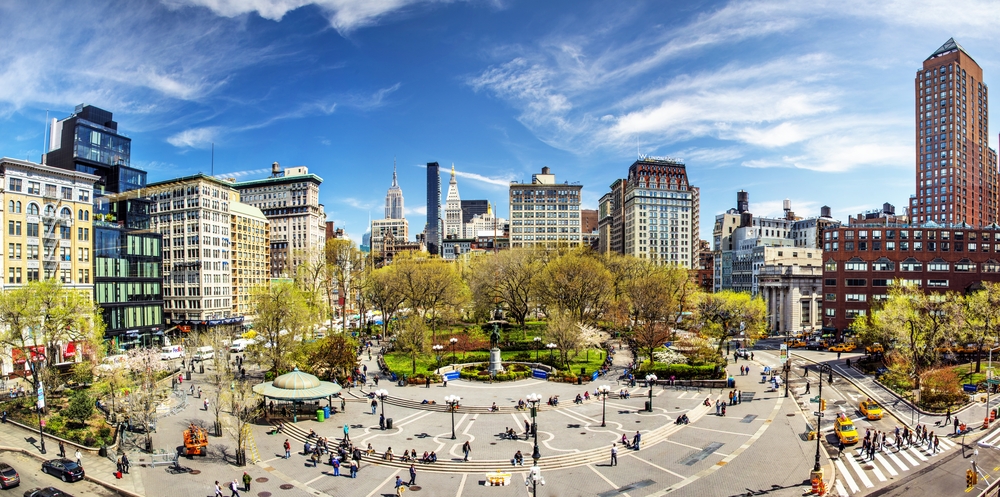 Union Square: Eat, Shop, Drink
Union Square is aptly named for its mix of activity. Here, Saks Fifth Avenue meets New School; buskers perform along bullet chess games and the longtime Greenmarket sets up four days a week. Subway lines converge at this downtown Manhattan spot, which is also home to restaurants, cafés and shops.
If you find yourself in Union Square, don't be a stranger. Enjoy the diverse, active neighborhood that has something for everyone. Here's your guide to shop, eat, and drink one of NY's most iconic neighborhoods.
Shop
The Union Square Greenmarket sets up on the square every Monday, Wednesday, Friday and Saturday from 8 am to 6 pm. Central to Union Square, the market dates back to 1976 and acts as a social gathering in the neighborhood. Make sure to browse the wine and cheese selection for something to enjoy later.
If you're looking for men and women's designer fashion, try agnès b. for long-lasting basic wears. Free People at 79 Fifth Ave. is a favorite for bohemian-inspired wear, dresses, intimates and shoes.
Flight Club at 812 Broadway is a must for sneakerheads. Pick up your Air Jordans, Yeezys, Dunks, or at least take a look around the promised land for sneaker fanatics.
For makeup, NYX Professional Makeup at 41 Union Square W. is lauded for its wide selection of tones to match the exact color of your skin. They also have great makeup professionals on hand for tips, tricks and lessons.
[Stylish Shopping Plazas in Manhattan]
Eat
Danny Meyer's first restaurant, the Union Square Café, is both a neighborhood and city staple. The restaurant opened its doors in 1985 and has since won various accolades, including five James Beard Awards. The restaurant is credited as an originator of American contemporary cuisine. Check out its new location at 101 East 19th St.
For a Parisian fine dining experience, Tocqueville is at 1 E. 15th St. is known for its French American fare, elegant dining room and five-star service. Featured in the 2016 Michelin Guide, Tocqueville is an apt choice if you're celebrating a special occasion or in the mood to get dressed up and enjoy a meal.
For something a little more laid-back, Blue Water Grill at 31 Union Square W. offers fresh, delicious and beautifully plated seafood in an equally agreeable dining room.
Drink
Chic, elegant and masterfully lit, Dear Irving a 55 Irving Pl. is a cocktail parlor hailed for its housemade creations. Named by Gothamist as the most gorgeous bar in Manhattan, you can't help but enjoy a prohibition-era cocktail at Dear Irving.
For craft beers, cocktails, wine, live music and, oddly enough, picklebacks, swing by The Belfry at 222 E. 14th St. Happy hour runs daily from open until 7 pm.
For early evening drinks or casual foodfare, try Lillie's Victorian Establishment, a cozy bar with a Victorian feel. Lillie's Victorian is located at 13 E. 17th St.
--
Planning a trip to NYC? Check out rates at the Royalton Park Avenue Hotel in Manhattan, located near Union Square.
---
---