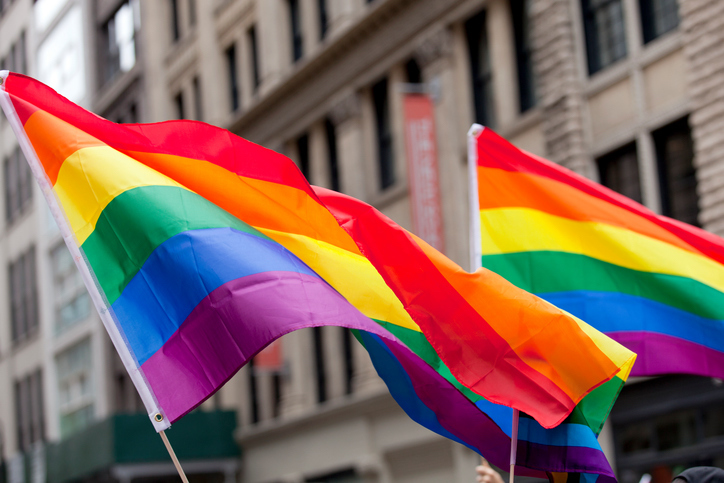 Celebrating Pride in NYC
Here in NYC, we're known for inclusivity and our unwavering allyship for the LGBTQ+ community. During the last two weeks of June, we celebrate Pride, a commemoration to the Stonewall Riots of 1969, which marked the beginning of the modern-day Gay Rights movement. Show your support by marching in the parade, attending fundraisers, exclusive parties, and standing hand-in-hand with friends and family.


Parade
NYC boasts the biggest Pride March in the world! In 2017, we had over 450 unique marching contingents, from nonprofits, activists, and community organizations, to corporate partners, small businesses, and political candidates, accompanied by 110 floats! This year we expect an even bigger turnout — so grab your rainbow gear and celebrate integrity, honesty, and acceptance. The march kicks off on 16th Street and Seventh Avenue at 12pm sharp, heading south and then looping back north, ending on 29th Street and Fifth Avenue (just two blocks west of Royalton Park Avenue!).
Seating is also available to cheer on the parade from the sidelines at St. Vincent's Triangle Park. Be sure to book a spot ahead of time to secure your seat. There will also be a live broadcast on ABC7 from 12-3pm if you prefer to watch the festivities from your hotel room. As always, the march is free to attend!


Special Events
Mark your calendars for the following events, parties, and charities to kick off pre-parade or keep the party rollin'!


Terms of Enqueerment
Head over to the People's Improv Theater in Flatiron on Thursday, June 21st, for a night full of laughs, courtesy of gay comedy superstar Matt Smith McCormick. Joined by a lineup of Carolyn Bergier, Calvin Cato, Jesse Cramer, Bobby Hankinson, and Kendall Ketchum, McCormick's Terms of Enqueerment standup will recount his cringeworthy, cathartic, and heartbreaking coming-out story.


Levity & Justice for ALL
Join forces with Billie Jean King, Melissa Etheridge, BETTY, and over 1,000 LGBTQ+ women and allies at Levity & Justice for ALL to raise money for LPAC — the nation's only LGBTQ+ women's political organization! Since 2012, this trailblazing community has raised $4.5 million from 4,500 community donors in all 50 states! Become a donor yourself on Wednesday, June 20th.

The Best of Queerball
Enjoy an LGBTQ+ variety show, The Best of Queerball, hosted by gay comedian Tim Dunn at UCBEast on Friday, June 22nd, to pregame before the big parade on Sunday. Queer acts include musicians, comedians, contortionists, drag queens, and a whole lotta laughs from Dunn.

Pride at Royalton Park Avenue
Treat yourself at Royalton Park Avenue when you book a stay with us during Pride Week between June 21st and June 27th for 20% off a recovery massage at Exhale Spa, room service breakfast with Rehab Shots courtesy of Juice Press, and a 2pm late check out!
---
---