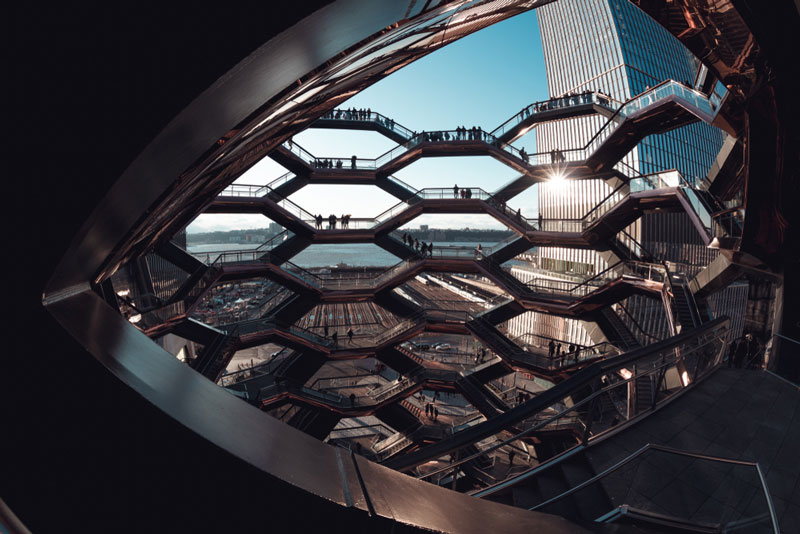 Your Guide to Hudson Yards
Drop everything you're doing and read this guide to everything you can see and do in Hudson Yards, New York's newest and most exciting neighborhood.
Location
Hudson Yards is located between 10th and 12th Avenues from West 30th to West 34th Streets, on Manhattan's West Side. You could take a 30-minute walk from Royalton Park Avenue to avoid the hassle of traffic or public transportation.
Architecture
One of the most intriguing aspects of Hudson Yards is its unique architecture. While we love the grand homes around Fifth Avenue, there's something appealing about futuristic and modern designs.
Start your tour at the Vessel, an impressive structure made up of 2,500 individual steps and 80 landings that criss-cross to provide countless photo opportunities. Then, head to the Edge for even more incredible views. The Edge is an outdoor deck that stretches 65 feet out to make visitors feel like they're floating over Manhattan.
In addition to offering spectacular views of Hudson River and Manhattan, Hudson Yards was designed with the environment in mind. This neighborhood is home to "smart" parks and gardens; this means that it was built with innovative and sustainable technology.
Art and Design
We know that our guests know how to appreciate great art and design, so we recommend that you pay a visit to Snark Park and The Shed. Snark Park is located on the second floor of The Shops. It's a retreat for art and design lovers who crave to experience art, design and architectural installations in a different way. If you want a trendy venue/gallery that blurs the lines between different types of art and performances, then get your tickets for the next event at The Shed.
Shopping
Last but certainly not least, visit The Shops at Hudson Yards. If you want to dress to impress, this is the place to flaunt a chic outfit. Leave window shopping for another time and go on a shopping spree with your gals. Expect the same luxury brands that line Fifth Avenue, but located in the newest mall in the city.
After a day exploring Hudson Yards, return to Royalton Park Avenue and relax by our outdoor pool in Manhattan. Book one of our New York hotel offers and receive the #RoyalTreatment.
---
---