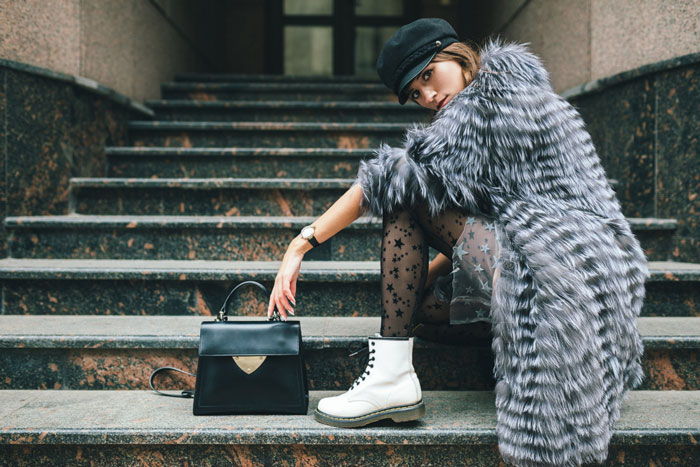 Seasonal Style Series: What to Wear in NY this Winter
Winter in New York is a season for coats, hats and boots. Climate at this time of year can range from below freezing temperatures and snow to gray and rainy days. Don't be discouraged, though, visiting New York between January and February will mean a chance to experiment with layers, textures and fabrics.
Scroll down to find out what you should bring on your winter trip to New York… Waiting to get here to shop for these items is more than encouraged!
Footwear
Boots are an obvious choice in winter. This season is bringing back stylish knee-high and thigh-high black boots. Suede and leather and the perfect materials to keep your legs warm. If you want to channel your inner hiker, colorful hiking boots will help you trudge across snowy streets.
Bottoms
A good pair of dark, skinny pants or warm leggings will be your to-go item for casual and smart wear. Wear thermal underwear for those below-freezing days. If, on the other hand, the weather is milder, mini-skirts in neutral colors pair great with black tights and boots.
Tops
Turtlenecks, turtlenecks and turtlenecks! The time has come to move away from plain colors. Opt for bold prints, patterns and intricate designs that stand out. Oversized tops have been in vogue for some time and this year isn't any different. Choose big knit sweaters with, once again, bold patterns or colors that will shine some light on the darkest days.
Jackets and Coats
Puffers are a big winter staple this year. Not only are they super comfortable, casual and warm, but easy to layer over lighter fabrics. Most puffers are made to battle the elements by offering some wind and water resistance.
If puffers aren't your thing or if you're after a dressier style, long coats and trench coats in thick and natural fabrics are a great addition to your winter wardrobe. Choose V-necks for those days when you want to show off that bold turtleneck.
Accessories
Scarves and hats are essentials during winter. This year, thick and big scarves will be your best friends on cold days. Look for statement pieces that contrast from the rest of your outfit, especially if you're wearing a neutral palette. To cover your head we recommend a cozy knitted hat or an European-looking beret in dark colors.
With such interesting winter trends this year, you can't miss the opportunity to rock the perfect outfit in the streets of New York. Book your stay at Royalton Park Avenue, a boutique hotel in the heart of Manhattan.
---
---